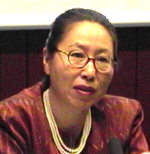 Welcome to the website of Sakiko Fukuda-Parr.

I am a development economist interested in human development and capabilities and the broad question of national and international policy strategies. I am currently a Professor at The New School, in the International Affairs Program where I chair the Development Concentration. I do research, graduate level teaching, and am also involved in formal and informal advisory work with NGOs, think tanks, foundations, and international organizations.  From 1995 to 2004, I was lead author and director of the UNDP Human Development Reports.  Previously, I worked at the World Bank and UNDP on agriculture, aid coordination in Africa and capacity development.  Please go to the header tab for short bio and full cv.
My current research initiatives include:
* A book manuscript on the Millennium Development Goals (MDGs)
*  The Power of Numbers: A Critical Review of MDG Targets for Human Development and Human Rights (co-coordinator with Alicia Yamin, Harvard University) – a multi-author research initiative on the impact of global goal setting on international development agendas.
* Economic and social rights – handmaiden or obstacles to economic growth?  The role of economic policy in the realization of the right to food in democracies of the Global South, focussing on  South Africa and Brazil.
My books include: Food Security in South Africa: Human Rights and Entitlement Perspectives (co-edited with Viviene Taylor); Human Rights and the Capabilities Approach: an Interdisciplinary Conversation (co-edited with Diane Elson and Polly Vizard); The Gene Revolution: GM Crops and Unequal Development, Readings in Human Development and Capacity for Development – Old Problems, New Solutions, Fulfilling Social and Economic Rights (with Terra Lawson-Remer and Susan Randolph).
I serve on the UN Secretary General's High Level Panel on Access to Medicines, the  UN Committee on Development Policy as Vice Chair, The University of Oslo Panel on Global governance for Health, The Lancet-University of Oslo Commission on the Global Governance for Health, and the boards of the International Association for Feminist Economics,  Knowledge Ecology International, as well as several advisory panels for research projects.
Recent additions
June 2016:
Professor Sakiko Fukuda-Parr co-authored the working paper "Normative Framing of Development Cooperation: Japanese Bilateral Aid between the DAC and Southern Donors" with Hiroaki Shiga published by the JICA Research Institute.  The paper can be accessed here: https://jica-ri.jica.go.jp/publication/assets/JICA-RI_WP_No.130.pdf
March 2016:
Professor Sakiko Fukuda-Parr presented a briefing statement to the United Nations Security Council (UNSC) on March 29th at the Arria-formula meeting on "Food Security and Peace."  She was mentioned in the Security Council's web magazine, What's In Blue, produced by Security Council Report highlighting insights on current issues and  evolving Security Council actions.  Information about the meeting can be accessed here: http://www.whatsinblue.org/2016/03/arria-formula-meeting-on-food-security-and-peace.php
Professor Sakiko Fukuda-Parr contributed the article "From the Millennium Development Goals to the Sustainable Development Goals: shifts in purpose, concept, and politics of global goal setting for development" to the latest issue of Gender & Development.  The article can be accessed here: http://www.tandfonline.com/doi/pdf/10.1080/13552074.2016.1145895
December 2015:
Professor Sakiko Fukuda-Parr's new book  Food Security in South Africa: Human Rights and Entitlement Perspectives, co-edited with Viviene Taylor,  has just been released by University of Cape Town Press.  http://jutaacademic.co.za/products/food-security-in-south-africa-2  Despite having a model constitution that includes one of the strongest guarantees for the right to food, and an agricultural sector with expanding production, millions of South Africans – about half the households – are food insecure.  About a quarter of children are stunted, reflecting years of malnutrition while obesity is a growing health crisis.  What explains this gap between political commitment and the massive human rights failure?  The book explores multiple dimensions of obstacles that households face in accessing food.
November 2015:
On November 14th, United Nations Secretary-General Ban Ki-moon announced appointments to the newly established high-level panel on health technology and access to medicines.  Prof. Sakiko Fukuda-Parr is one of sixteen eminent appointees who will consult with stakeholders and formulate recommendations to the General Assembly to ensure the health and well-being of all people as laid forth in the Millennium Development Goals.  The press release and additional information can be accessed here: http://www.un.org/press/en/2015/sga1608.doc.htm
September 2015:
Prof. Sakiko Fukuda-Parr's guest contribution to the Speri.Comment: the Political Economy Blog about the SDG's can be accessed here: http://speri.dept.shef.ac.uk/2015/09/30/the-2030-agenda-and-the-sdgs-a-course-correction/
August 2015:
Prof. Sakiko Fukuda-Parr with Rachael Wyant contribute the chapter, "Human Rights, Economic Governance and International Cooperative Action", to the new publication from The United Nations Series on Development.  Global Governance and Rules for the Post-2015 Era. http://www.bloomsbury.com/us/global-governance-and-rules-for-the-post-2015-era-9781472580702/ 
February 2015:
Interview with Prof. Sakiko Fukuda-Parr. Visualising Poverty Research Series, Comparative Research Programme on Poverty (CROP), University of Bergen (UiB) and International Social Science Council (ISSC).
January 2015:
Fulfilling Social and Economic Rights, a new book by Sakiko Fukuda-Parr, Terra Lawson-Remer, and Susan Randolph, proposes an innovative framework for measuring government performance in meeting economic and social rights obligations against what could be achieved with available state resources.  The authors argue that traditional human rights indicators capture individuals' enjoyment of economic or social rights, but not state compliance with the duties to progressively respect, protect, and fulfill those rights.  Their new approach uses data from countries across the globe to set relative benchmarks against which to evaluate more comprehensively how states apply their resources to realize economic and social rights.  Their findings reveal striking differences in governments' success in mobilizing public resources to deliver socioeconomic benefits. Their findings also raise questions about persistent obstacles to global fulfilment of economic and social rights despite unprecedented wealth production and technological breakthroughs over the last century. 
Please go to the header tabs for further information.
(Header photos taken by students at the New School in the summer field program. Credits in order left-to-right: The Grace of Women by Timo Mueller; Paddy Fields in the Rain by Melissa Edwards; Assemblage by Brandon Fischer; and Night in Durbar Square by Tobia Neufeld)