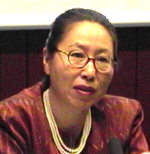 Welcome to the website of Sakiko Fukuda-Parr.

I am Professor at The New School, in the International Affairs Program where I chair the Development Concentration. I do research, graduate level teaching, and am also involved in formal and informal advisory work with NGOs, think tanks, foundations, and international organizations.  From 1995 to 2004, I led the UNDP Human Development Reports.   Please go to the header tab for short bio and full cv.
My books (selected) include:
Millennium Development Goals: Ideas, Interets and Influence  (2017 Routledge)
Fulfilling Social and Economic Rights (with Terra Lawson-Remer and Susan Randolph) (2016 OUP)
Food Security in South Africa: Human Rights and Entitlement Perspectives (co-edited with Viviene Taylor) (2015 UCT Press)
MDGs, Capabilities and Human Rights: The Power of Numbers to Shape Agendas (co-edited with Alicia Yamin) (2015 Routledge)
Human Rights and the Capabilities Approach: an Interdisciplinary Conversation (co-edited with Diane Elson and Polly Vizard) (Routledge)
The Gene Revolution: GM Crops and Unequal Development, (Earthscan)
Readings in Human Development (3rd ed. with A.K. Shivakumar) (OUP) 
I serve on the  UN Committee on Development Policy as Vice Chair, The University of Oslo Panel on Global governance for Health,  and the boards of the International Association for Feminist Economics,  Knowledge Ecology International. I was member of  the UN Secretary General's High Level Panel on Access to Medicines, The Lancet-University of Oslo Commission on the Global Governance for Health.
News
July 2017: At the UN High Level Political Forum – spoke as Keynote Speaker in the Opening Session. Statement argued against the limitations of the indicators framework and excess reliance on data.
Spoke at side event on access to medicines calling for ambitious, sustainable and transformative solutions to gaps in access and innovation.
July 2017: Millennium Development Goals: Ideas, Interests and Influence was just published by Routledge.  This book critically evaluates the MDG experience from the capabilities and human rights perspectives, and questions the use of quantitative targets as an instrument of global governance. It provides and account of their origins, trajectory and influence in shaping the policy agenda, and norms of international development.
February 2017: CPD Annual lecture, Dhaka, Bangladesh on the gaps between innovation and medical priorities and warning new models of trade and investment agreements reduce national policy space for public health priorities.
November 2017: op eds on the consequences of new models of trade and investment agreements – Kyodo News, Thailand  Business News…..
September 2016: Fulfilling Social and Economic Rights received the 2016 award for the Best Book in Human Rights Scholarship from the American Political Science Association (APSA)
September 2016: Report of the UN SG's High Level Panel on Access to Medicines was released.  Spoke at Breakfast Dialogue.  Wrote blogpost on Lancet Global Health.
June 2016:
"Normative Framing of Development Cooperation: Japanese Bilateral Aid between the DAC and Southern Donors", working paper coauthored with Hiroaki Shiga published by the JICA Research Institute.
March 2016:
Presentation to the United Nations Security Council (UNSC) on March 29th at the Arria-formula meeting on "Food Security and Peace."  See report in What's In Blue .
"From the Millennium Development Goals to the Sustainable Development Goals: shifts in purpose, concept, and politics of global goal setting for development" was published in the latest issue of Gender & Development.  The article can be accessed here: http://www.tandfonline.com/doi/pdf/10.1080/13552074.2016.1145895
Please go to the header tabs for further information.
(Header photos taken by students at the New School in the summer field program. Credits in order left-to-right: The Grace of Women by Timo Mueller; Paddy Fields in the Rain by Melissa Edwards; Assemblage by Brandon Fischer; and Night in Durbar Square by Tobia Neufeld)